Special Education Programs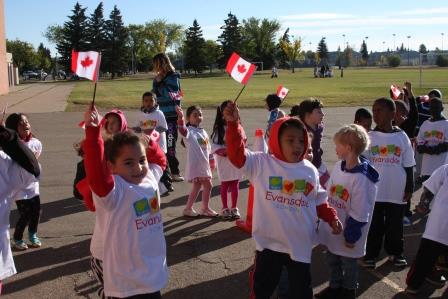 Connections and Connections/Opportunity
Formerly known as Behaviour and Learning Assistance and Behaviour and Learning Assistance/Opportunity.
This programming supports students displaying chronic, extreme and pervasive behaviours. Students require close and constant adult supervision and a high level of structure to function in an educational setting.
GOALS

Develop and demonstrate positive behaviour and social skills
Achieve academic goals
ELIGIBILITY
Students must be in Grades 5 or 6 with severe emotional and behavioural challenges, and a clinical diagnosis. Contact your child's school for information about eligibility and specialized programming.
Pre-Kindergarten Program
Evansdale houses a large in-school Pre-Kindergarten program to help support the diverse needs of the community. Pre-Kindergarten supports children with severe delays, aged 3 to 5 years. Programming focuses on cognitive, self-help and social skills, speech and language, and motor development. Parents and staff work together to support each child. Please contact the school for more information.
More information available in our Pre-Kindergarten Handbook and on the Edmonton Public Schools website.
PROGRAM DESCRIPTION
Pre-Kindergarten builds children's strengths and skills in a playful, language-rich environment. The program is for children with severe needs who are between the ages of 2 years and 8 months and 4 years and 8 months old by September 1 of the year they are attending. See what families and school staff have to say about the program and find out whether is right for your child.
GOALS
Learn to express themselves, share and problem solve

Improve communication and motor skills through specific intervention, exploration and guided activities

Build social skills and confidence in a playful and welcoming environment

Discover new experiences, friends and a love of learning
PROGRAM DELIVERY
Half-day classes

Specialized support from speech language pathology, occupational therapy and physical therapy, when needed

Playful and engaging learning environment

Flexible instruction based on children's needs and interests
REGISTRATION FOR PRE-KINDERGARTEN
To register for Pre-Kindergarten, your child will need to meet program eligibility requirements based on an assessment or diagnosis from a healthcare provider.
If your child has a report from a qualified professional, or has been directed to contact an early childhood service provider by Alberta Health Services, please contact the office for further information.